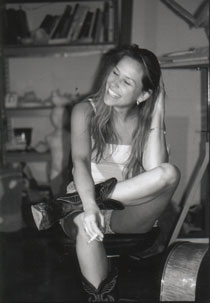 Stephanie Huerta was born and raised in West Nyack, New York. She relocated to Sarasota, Florida where she graduated from the Ringling School of Art and Design, majoring in Sculpture, Painting and Printmaking. Upon graduating in 1989 she received the "Best of Ringling" Presidents award.
In Florida, Stephanie freelanced with Universal Studios and Nickelodeon Studios as a sculptor and Chief Scenic Artist. She was commissioned by the "Ripley's Believe It or Not" museum to sculpt a bust of Kevin Costner. She worked for the Nassal Company sculpting a maquette for a 25 foot tall installation of King Neptune at Caesar's Palace in Las Vegas and a life-sized coral reef and Greek village for the Journey to Atlantis exhibit at Sea World.
She has been living and working as an artist in Santa Fe, New Mexico and has done commissioned sculptures for the Highlands University in Las Vegas, NM and a life-sized sculpture at the Pioneers Museum of the first ex-slave to sit on a jury in Colorado Springs, Colorado. Her work ranges from bas relief portraits for the College Football hall of fame to life-sized horses for the Witte Museum of Texas. She was awarded a commission from the Art in Public Places of New Mexico to create a permanent sculpture at the entrance of the Tingley Coliseum at the New Mexico State Fairgrounds.
Stephanie's fine art work ranges from large scale oil paintings to figurative and expressionistic sculptures in bronze, steel, and plaster/cement. Her work is driven by her social consciousness towards environmental issues and her love of harmony in nature. Animals, being the central theme of her work, carry many layers of meaning, both symbolically and historically; ultimately sharing with the viewers the endless beauty of life and the miracle of anatomy; always capturing a unique spirit as if the pieces were alive with soul and something to share. Her love of life exudes each piece and captures the eye of all walks of life.